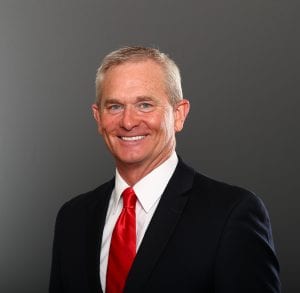 Mitch Holthus is in his 29th season as the play-by-play Voice of the Kansas City Chiefs.
A native of Smith Center, Kansas, Mitch has continued the work ethic he learned growing up on the farm in his career as a play-by-play sportscaster, entrepreneur and motivational speaker.
Listeners throughout the Chiefs Kingdom join in with Holthus when he makes his signature call "Touchdown Kan – zzzz City". Mitch also hosts the Hy-Vee "Chiefs Insider" television show and various Chiefs website programming and emcees many Chiefs functions throughout the year.
As an entrepreneur, Mitch writes, produces, and sells the "Minute With Mitch" radio and television shows that air in-season throughout the Chiefs Kingdom.
During basketball season, Mitch can be seen and heard doing play-by-play talent for Fox Sports and ESPN. Mitch has called Big 12, Big 10, SEC and Missouri Valley Conference games, as well as post-season NIT games.
Mitch is well-respected as a motivational speaker. His inspirational messages are always tailored to fit the personality and needs of the group he is addressing.